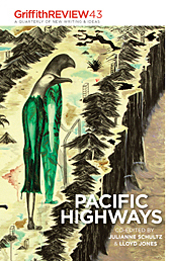 Published 4th February, 2014
ISBN: 9781922182241
Extent: 300 pp
Paperback (234 x 153mm), eBook
Isolated by ocean, New Zealand's ecosystem is particularly vulnerable to introduced species. The constant arrival of new flora and fauna, via humans, wind and sea, means the biodiversity is constantly changing. Humans too have been washing up on New Zealand's shores for centuries, leading to constant shifts in demographics, culture and economics, building on strong Māori and Pākehā traditions. Auckland is now one of the most culturally diverse cities in the world. As a result, New Zealand is adjusting and evolving to create a new twenty-first century identity at the crossroads of the Pacific.

Griffith REVIEW 43: Pacific Highways, co-edited by Julianne Schultz and acclaimed New Zealand author Lloyd Jones, examines the shifting tides in New Zealand through a heady mix of essay, memoir, fiction and poetry by some of New Zealand's most exciting and innovative writers. Pacific Highways explores New Zealand's position as a hub between the Pacific, Tasman and Southern oceans, and examines the exchange of people and culture, points of resistance and overlap.
How New Zealand adapts to recent profound changes and moves forward is a matter of urgent consideration. The country's economic model is generating escalating environmental and cultural strains, but also presents great opportunities. A recent worldwide survey found the NZ education system is one of the worst at overcoming economic and social disadvantage. Auckland is home to more than a third of the (increasingly diverse) population, presenting challenges and opportunities for the whole country. Christchurch is finding inspiring new ways of reinvention. Pacific Highways asks what can be learnt, and what lessons does New Zealand offer the world?
New Zealand celebrates its unique cultural heritage, but with multiculturalism comes questions of identity, which many of the writers in Pacific Highways explore. Who decides who is a 'New Zealander'? How are Chinese immigrants accepted? Who are you if you are brought up with the strict codes and behavioural norms of your parents' country but live in another? Does immigration offer the capacity for reinvention?
New Zealand is an island nation, and oceans and rivers imbue Pacific identities. They run paths through major cities and offer courseways for stories. From migrating eels to tasty sea grapes, castaway sailors to volcanic rafts, waterways flow through the essays and stories of Pacific Highways.
Pacific Highways also celebrates the art and literature of New Zealand looking at the country's wealth of artistic and literary talent in critical essays, and includes short stories and poetry by many of New Zealand's best writers, from many backgrounds.
Pacific Highways, with support from the New Zealand Book Council and Creative New Zealand, is a profound overview of a complex Pacific nation with a polyphony of voices. It will challenge what you thought you knew, and inspire you to think again.
---
Download the Free eBook: Pacific Highways Volume 2
It includes Gregory O'Brien's documentary poem 'Memory of a fish', poet Ya-Wen Ho's reflections on poetry as social action, and two bonus poems by James Brown.
You'll also discover additional essays and fiction by more of New Zealand's best writers.
Download PDF format
Download ePub format
---
Watch
---
Reviews
'Don't miss this … it is a truly superb collection that wonderfully illustrates the hugely varied talent of NZ writers. AND in Australia's leading literary journal ! Every serious reader/book lover should own a copy and all libraries should have multiple copies. It is an absolute treasure.' Beattie's Blog
'The whole thing is terrific! … It's just a fantastic collection … It is a really big, broad, overview… Lloyd Jones has done a terrific job pulling together this disparate group … I can't enthuse about it enough.' – Graham Beattie, Radio Live
'Geologically, New Zealand and Australia are edging apart. The same sometimes seems to be happening in literature; it can be easier for a New Zealand writer to get published on the other side of the world than on the other side of the Tasman. Which makes it both admirable and generous of the prestigious Brisbane-based Griffith Review to devote its latest quarterly issue to our authors … It's an excellent album of the ways we are, love, deny, lament. It's also a marker in CIR (Closer Intellectual Relationships). Buy several copies as gifts, especially for New Zealanders resident in Australia.' – New Zealand Herald
'It's a fascinating anthology, for all Antipodeans.' – Martin Shaw, Readings
'Pacific Highways is, indeed, a refreshing and intelligent rebuff of the many tired and tiresome clichés that abound – in Australia, especially – about the Land of the Long White Cloud … Pacific Highways paints a picture of a nation that has undergone – and is perhaps still undergoing – seismic change. It's an exciting and inspiring collection of writing that takes a fresh look at the complexity of the Kiwi culture and identity.' – InDaily
'There is something here for everyone, a lot of it is easy to read, to understand and enjoy … it is great to see the continued respect being given to New Zealand writers and artists from outside our borders.' – We Love Books
'I thoroughly enjoyed the collection, enjoyed reading so much creative non-fiction. I found it inspiring; I was driven to write poetry about the Pacific. Buy the book.' – NZ Lit 101
'The collection gives Australian readers an in-depth look at New Zealand, as well as New Zealand readers a thoughtful reflection on their changing national identity…this collection challenges and informs through the high quality of writing and passion of its contributors. The varying lengths of pieces and the loose structure of the collection give the writers space to develop their ideas in way that a newspaper or magazine article isn't able to accommodate. The results are often very engaging… This collection successfully takes the pulse of a nuanced and exciting country whose literary talent is given ample space to grow, thanks to the Griffith Review.' – NZ Booklovers
'Embraced are the austere, the erudite, the slightly sedate, the shimmering, the transient and then there are the smart renditions about very little. The extensive range, however, is strikingly realised!' – PS News
'For a young country with a relatively small population the number and variety of high calibre contributors to this edition is fantastic… There is something here for everyone, a lot of it is easy to read, to understand and enjoy… it is great to see the continued respect being given to New Zealand writers and artists from outside our borders.' – KiwiFloraReads
Griffith REVIEW's Pacific Highways 'is like a sampler box of chocolates, you get a taste of all sorts, including people and works you might otherwise overlook, and the pieces are long/short enough to intrigue and make you go looking for more by the authors you love.' – UBS Review of Books
'The writing in this edition only gets better the further you read, and the more I read, the more I wanted to know. Pacific Highways strips New Zealand of its simple stereotypes and uncovers this rich, modern country and culture for multicultural nation it really is.' – lip magazine
'Even without the lure of a New Zealand themed edition, Griffith REVIEW is a beautifully curated quarterly – attractively presented with colour plates, excellent writing, and culturally relevant themes explored in a range of ways including essay, memoir, fiction, painting, photography, and poetry. The Pacific Highways edition however, is a real standout for me, presenting a series of perspectives of New Zealand that resist the facile and go far deeper into an exploration of both islands including the historical, the political, the aesthetic, and the personal… I could probably write a review of every single piece in this book, but this review would be as long as the book itself. Suffice to say that the variety of forms, themes, imagery and styles makes for an evocative, entertaining, and multifarious reading experience that will keep readers awake for many nights.' – Compulsive Reader
'We, as New Zealanders, accept that Australians don't usually cut us the slack we might deserve. Well, the Brisbane-based Griffith REVIEW, a quarterly journal of essays, poetry, memoirs, fiction and imagery, is a high-profile exception… Pacific Highways offers more than just snapshots. Collectively, it's an insight into where we've come from, what we're doing and who's been joining us for the ride… To those of us who don't call New Zealand home, Pacific Highways provides a collective snapshot of what home really is.' – Scoop NZ
---
Lloyd Jones Masterclass
What to write about?– On 12 April 2014, Griffith REVIEW held a masterclass with Lloyd Jones.
Griffith Review – What to write about, a masterclass with Lloyd Jones from Flying Arts Web TV on Vimeo.
Featured Contributors
---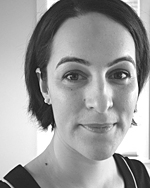 Leilani Tamu is a poet, social commentator, Pacific historian and former New Zealand diplomat.In 2013 she was the Fulbright/Creative...
Stay up to date with the latest, news, articles and special offers from Griffith Review.