Non-fictionToday we assume individuals should choose how to live; Sartre, by contrast, was speaking in an era still dominated by monoliths. It feels insane to write, but the Axis powers waged total war to establish global racial supremacy. They deemed national purity and the virility of the state important enough to liquidate millions and subjugate billions. The Allies who defeated this madness drew their power from colonial empires built on less extreme versions of the same worldview. The existentialist argument that there is no destiny waiting for us in the form of a predefined way of life – be it racial, cultural, religious or ideological – is a radical departure from history. Humans have lived according to different versions of identity-­based destiny for millennia. Mass identities can offer a shortcut to finding a place and a sense of self in the world, but they are also the engine of division and violence between competing groups. It's a double-­edged sword and nigh unavoidable: taken too far, any attempt at belonging ends in exclusion and persecution for those who do not belong in that specific way.
IntroductionWhether they're personal, cultural or religious, these are the stories that offer us ways of orienting ourselves amid the sheer chaos and confusion of being alive – particularly today, as humanity's existential and environmental crises continue to mount. 
Non-fictionOn the way home that night we pass Oxford Street. It's lit up and people are dancing in the windows of the clubs. There's a rainbow flag on one of the buildings. Dad turns to look at this with a grimace: he shakes his head and sucks his teeth. He turns the volume up on the CD player and focuses on the road ahead.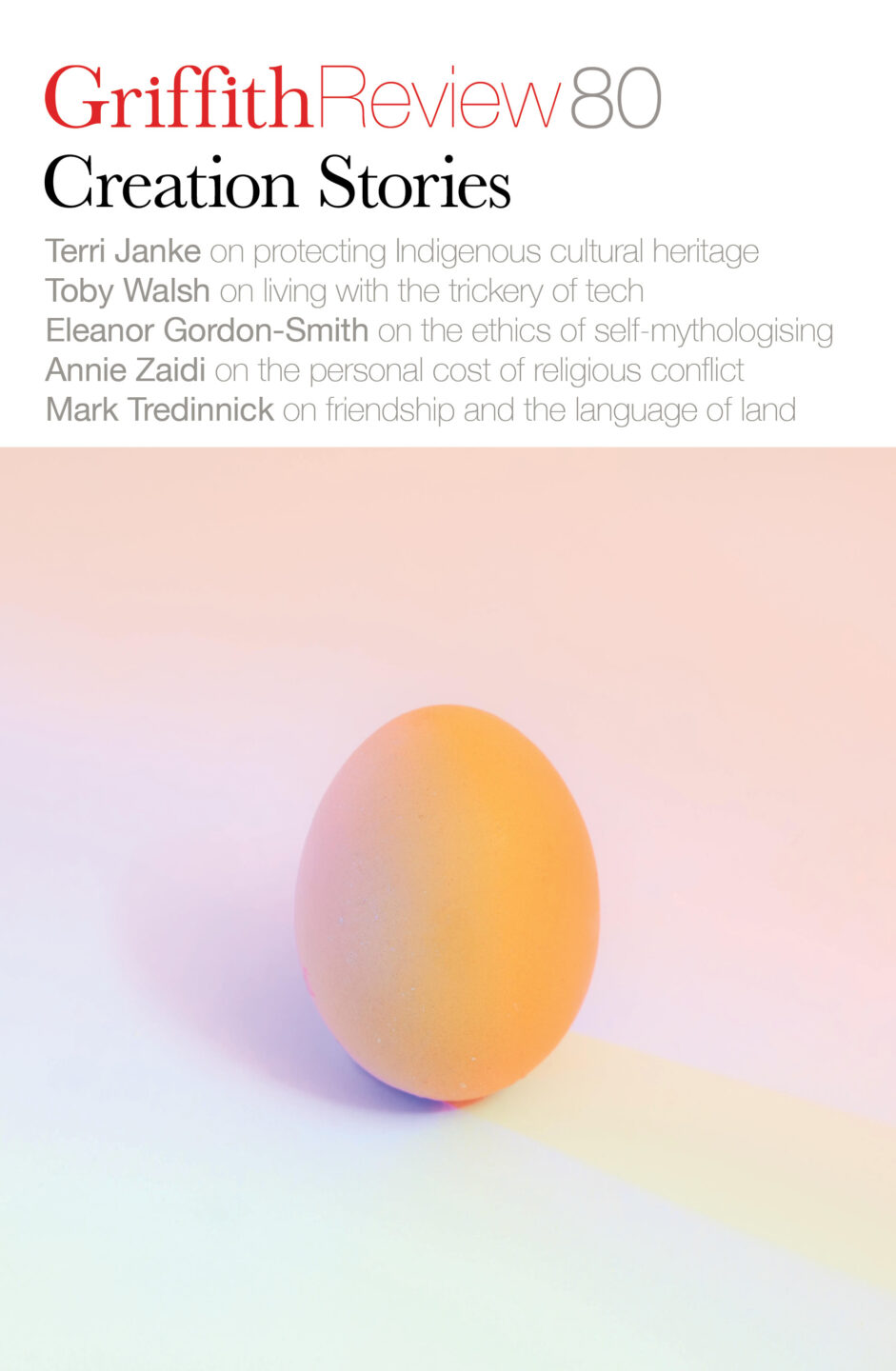 The capacity to tell stories – along with language and the ability to create art – is seen as both intrinsic and unique to the human species. Over thousands of years, we've forged narratives of our origins, our journeys...
Stay up to date with the latest news, articles and special offers from Griffith Review.
Behind the bestsellers
The argument that independent and small book grocers have a more impressive and widespread range has held for a long time, but in May, Big W was awarded the prestigious Book Retailer of the Year at the Australian Book Industry Awards (ABIAs)… Recognition on this level legitimises the sales of books for half their value.
Recent Editions
---