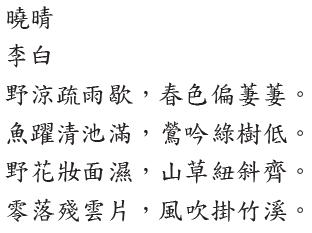 A Clear Dawn
Li Po
The bush is cool, the light showers have stopped – a panorama of
Spring.
The clear waters boil with leaping trout; birds chirp, the fern fronds droop.
The bush flowers dapple their dewy petals; the hill tussocks give a
crisp salute.
Above the cabbage tree and creek, wisps of cloud gently scatter in the wind.
(translation Ya-Wen Ho)
Clearing at Dawn
Li Po
The fields are chill, the sparse rain has stopped;
The colours of Spring teem on every side.
With leaping fish the blue pond is full;
With singing thrushes the green boughs droop.
The flowers of the field have dabbled their powdered cheeks;
The mountain grasses are bent level at the waist.
By the bamboo stream the last fragment of cloud
Blown by the wind slowly scatters away.
(translation Arthur Waley)
Ya-Wen Ho's essay, 'Poetry as social experiment', can be read in the e-book Pacific Highways: Volume 2, available free at www.griffithreview.com