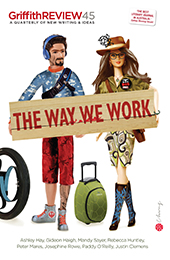 Published 1st August, 2014
ISBN: 9781922182425
Extent: 264 pp
Paperback (234 x 153mm), eBook
Griffith Review 45: The Way We Work explores the extraordinary structural changes in work caused by technology, globalisation, economic theory, the collapse of the unions and an ageing population.
Featuring essays from Ashley Hay, Gideon Haigh, Mandy Sayer, Rebecca Huntley, Peter Mares, Josephine Rowe and more, The Way We Work asks: How does work shape our values, our citizens, cultures and communities? As our work changes, how will it change us? How does the blurring of work and leisure through 'access anywhere' technology affect our attitudes to work? How are older Australians going to find consistent and flexible work (as the government wants them to do) when age discrimination is rife? Will flexible work help decrease the gender gap?
Australians are now near the top of the list of working hours in developed countries; a substantial and growing proportion of people work part-time with multiple employers – not all by choice; unpaid internships are the normal entry path for young people; women are no longer forced to resign when they marry or become pregnant, but the wage gap remains; manufacturing and agricultural jobs have given way to working in services, and now those jobs that don't actually demand hands on contact are also moving offshore.
We exist in professional landscapes that didn't exist fifteen years ago, that are still being altered and transformed today, and that are probably all but incomprehensible to our parents' generation.
One thing remains constant though, work is essential to economic wellbeing and meaning, so getting it right is important.
---
Reviews
'The Griffith Review devotes this edition to all manner of modern work practices, with topics including the "Janus face of flexibility", the plight of self-funded retirees and negotiating timezones via Skype. A timely and insightful read, and the calibre of writers is impressive.' Sun Herald/Sunday Age
'As in all of its collections, the latest Griffith Review provides readers with the tools to go forth into the world armed with an increased understanding of realities so disparate from their own and what they need to do to bridge the inordinate gaps that still prevail.' ArtsHub
---
Free eBook Download
When We Were Kings is a free bonus ebook of journalism and stories about journalism created to accompany Griffith Review 45: The Way We Work.
The ebook is dedicated to jailed Australian journalist, Peter Greste and his colleagues, who were given long prison terms by an Egyptian court for doing their jobs.
Features Sonya Voumard, Kathryn Knight, Phil Brown, Frank Robson, Peter Mares, Craig McGregor, Gijs Verbossen and Rachel Buchanan.
Download When We Were Kings PDF format
Download When We Were Kings ePub format
Download in When We Were Kings Kindle compatible format
---
Watch
Featured Contributors
---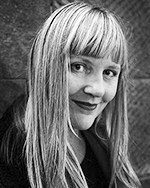 Mandy Sayer is the author of ten works of fiction and non-fiction. Her most recent book is The Poet's...
Stay up to date with the latest, news, articles and special offers from Griffith Review.