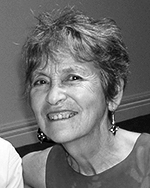 Gillian Bouras was born in Melbourne and is an expatriate Australian writer who has written
several books, stories and articles, many of them dealing with her experiences as an Australian
woman in Greece.
Bouras published her first book, the autobiographical A foreign wife, in 1986.
In 1996, her younger sister Jacqui committed suicide, after decades of mental illness. Bouras'
book, No Time for Dances, explores her sister's life in an attempt to understand her suicide.
She spends her time between London and Greece, as well as maintaining ties with Australia.
She has had short stories and articles published in newspapers and journals including Meanjin 
and Island and presented papers at conferences and literary events, in Australia and elsewhere.
Stay up to date with the latest, news, articles and special offers from Griffith Review.