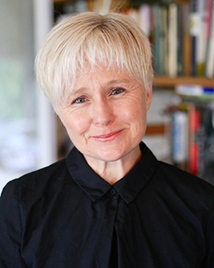 Ashley Hay, Griffith Review's editor between 2018 and 2022, is a prize-winning author who has published three novels and four books of narrative non-fiction, an essayist, journalist and facilitator, and former literary editor of The Bulletin.
Her work has won several awards, including the 2013 Colin Roderick Prize and the People's Choice Award in the 2014 NSW Premier's Prize. She has also been longlisted for the Miles Franklin and the International IMPAC Dublin Literary Award, and shortlisted for prizes including the Commonwealth Writers' Prize and the Kibble.
In 2014, she edited the anthology Best Australian Science Writing. In 2021, she was invited to provide literary interpretation for Eucalyptusdom, a landmark MAAS exhibition at the Sydney Powerhouse. A new edition of Gum: The Story of Eucalypts and Their Champions was also published that year.
---
Pieces by Ashley Hay
New vibrations
Edition 72: States of Mind
Create, destroy, reset
Edition 71: Remaking the Balance
'A poem is a unicycle'
Edition 71: Remaking the Balance
Samples of gifts and giving
Edition 70: Generosities of Spirit –
The Novella Project VIII
This south and that north
Edition 69: The European Exchange
The time of our lives
Edition 68: Getting On
Foresight, hindsight and the present day
Edition 67: Matters of Trust
In the small hours
Edition 66: The Light Ascending –
The Novella Project VII
Retribution, reform, rehabilitation
Edition 65: Crimes and Punishments
Seeing through the digital haze
Edition 64: The New Disruptors
Crossing the line
Edition 63: Writing the Country
Symbols, shorthand, signs
Edition 62: All Being Equal – The Novella Project VI
What happens next
Edition 52: Imagining the Future
Mirror rim
Edition 47: Looking West
Adaptation
Edition 45: The Way We Work
Where the wild things are
Edition 21: Hidden Queensland
The sun rising
Edition 30: The Annual Fiction Edition
Elsie's house
Edition 34: The Annual Fiction Edition
Walking underwater
Edition 35: Surviving
Reframing the thought ­
experiment
Edition 73: Hey, Utopia!
Escape rooms
Edition 74: Escape Routes
Prismatic perspectives
Edition 75: Learning Curves
Beyond the frontier
Edition 76: Acts of Reckoning