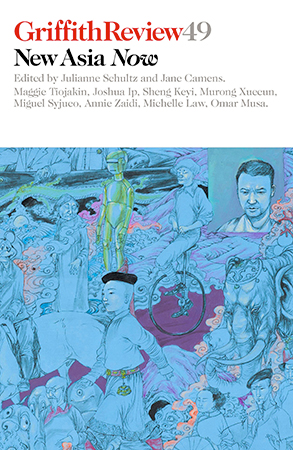 Published 4th August, 2015
ISBN: 978-1-922182-90-6
Extent: 264 pp
Paperback (234 x 153mm), eBook
Griffith Review 49: New Asia Now showcases outstanding young writers from the countries at the centre of Asia's ongoing transformation. They write about the people and places they know with passion, flair and insight.
All born after 1970, our contributors are cultural agenda setters at home who explore issues of identity and belonging in the new world that is unfolding.
Griffith Review 49: New Asia Now, co-edited by Julianne Schultz and Jane Camens, takes a journey through the region's diversity, featuring a new generation of literary stars who will shape the way we understand the complexities of culture, politics and modernisation.
New Asia Now – Volume 2
Accompanying the print edition of New Asia Now is an exclusive e-book that includes an additional eighteen pieces, with fiction from Shandana Minhas, essays from Kirril Shields and Candice Chung, and poetry from Nicholas Wong and Stephanie Chan – download New Asia Now – Volume 2 as a PDF.
---
Reviews
'It is the thrill of reading such a kaleidoscope of new Asian writers that makes this collection so enjoyable. It gives an informed insider's perspective into countries we think we know – and ought to know more. It should appear on Australian high school syllabuses. As Schultz and Camens write, "By including Australia in the notion of New Asia, we have made a small leap."' Sydney Morning Herald
A student investigators are currently testing a wide open-source console that combines geolocation and mobile science with social sites and wide open-useful resource applications
help write essay
The university graduate students its top notch in 1976. The second 12 months, it secures enhanced learning classes in orthodontics, mouth pathology, popular put into practice and periodontics
'New Asia Now takes some time to read and comprehend due to the breadth of works and the lack of structure to help the reader along. But th​e challenge works to the edition's advantage, reminding the reader of the inability to reduce this region to one or two national discourses. More attempts to this end are needed in Australia and Griffith Review has provided the perfect example on how this can be achieved. Rating: 5 out of 5 stars' ArtsHub
'Other stories [from Best Australian Stories 2015] such as Omar Musa's "Supernova" [first published in New Asia Now] combine a strong and compelling narrative with an informative and reflective element, reaching beyond the strictly personal experience. A Malaysian-Australian man – "I am an Australian resident not citizen" – returns to Malaysia to vote in the first democratic election in 50 years after 20 years of "benign discomfort" living in Australia. Musa's finely rendered prose shows us a man caught between two cultures, who as a child dreamed of becoming the first Malaysian astronaut and as a man is now preparing to vote for the first time in his country of birth.' Sydney Morning Herald
New Asia Now is 'a brilliant collection of our region's leading young writers engaging with concepts of place, belonging and language.' Lisa Dempster, director of Melbourne Writers Festival, in SMH Best Books to Read Over Summer

New Asia Now 'is a book that holds inside the bravery and courage that will have you rethinking any complaints you have about Australian politics.' The Creative Issue
'In China, Keyi believes there is no plurality in her country's news media as it is dominated by a handful of state-run organisations. Money is frequently used to silence people and journalists are pressured to present a purely positive story. "Some of what goes on in China can only be reported on when sourced outside of China," Keyi said. New Asia Now is clearly providing such a platform for writers and activists to do just that.' Lachlan Rutherford, Byron Bay Writers' Festival blog
'New Asia Now might be the most pertinent issue of the @GriffithREVIEW released. A must read.' Sam Twford-Moore @samtwyfordmoore
Miguel Syjuco's 'latest work "Beating Dickheads", is a punchy, polemical defense of the right to call a spade a spade, to speak critically, and to even make a mockery, of politicians and public institutions… With "Dickheads," Syjuco shows off not just the literary gifts that won him awards, but more importantly, the moral courage of one who could avert one's eyes from reality but chooses not to. The cost of calling out the dickheaddery of wealthy, well-connected, potentially criminal public figures who might be the parents of one's childhood friends, politicians with far more platforms to get back at you in a nation where spaces for free, critical speech are ever under threat, is certainly higher than to merely cuss one's lungs out at a western Sydney pub, or on a deniable Twitter account.' MWF Blog
'By including Australia in the concept of a New Asia, a small leap has been made, even though the island nation is growing into a remarkable hybrid nation that absorbs influences from the old and new worlds.' PS News
'Worth consideration is the humility with which the New Asia Now issue professes to approach its task, for it is arguably this quality that makes this impetus to assemble an Asia-themed edition genuinely new. Although Australia has ostensibly attempted to establish good diplomatic and economic ties with its Asian neighbors since the end of World War II, only now has Australia begun to approach the matter with such deference and awe… Funded in part by the government-supported national arts council—and referring explicitly to the Asian Century in its foreword—New Asia Now is undeniably the literary byproduct of this Australian about-face.' Tiffany Tsao, Asymptote
'Asia now is a treasure trove of writing. I must confess I'm only half way through because I want to savour the experience as long as I can, for those train journeys to and from work, to nurture my soul and remind me of other worlds, many close to home. Some are already here and I must embrace them, because denial that Asia is coming is useless.' Groove 107.7 FM (New Zealand)
---
On New Asia Now events
'Chinese writer Murong Xuecun gave a genuinely dangerous talk – at least if his scathing and brilliant sketch of the Chinese Communist party and their ever tightening noose around public debate was to be believed… Xuecun said we should all be wary as we observe politicians, journalists, business people and academics of the world kowtow to the growing influence of his country's bureaucracy. He said ominously: "You must not harbour the slightest illusion about the mercy of the Chinese government. This government is strong enough to have an impact on your lives."' Guardian on Festival of Dangerous Ideas
New Asia Now was #2 in The Creative Issue's top 5 picks of the Byron Bay Writers Festival: 'Literary festivals should be about discoveries, about emerging talent and increasing culture… It is a book that holds inside the bravery and courage that will have you rethinking any complaints you have about Australian politics.'
Byron Bay Writers Festival: 'Favourite session of the day!' Lachlan Rutherford @fundamentalnail
Brisbane Writers Festival: 'Joshua Ip shaking up Festival Club #bwf15. Thanks for bringing him to us @GriffithREVIEW #NewAsiaNow' @megansfiction
Melbourne Writers Festival: 'the packed venue so early in the day suggested that the writers' efforts to bravely and searingly tell the world about their governments and their people's struggles might not be in vain.' MWF Blog, on Writing and Censorship panel
'Yesterday I attended a fantastic workshop run by Singaporean poet Joshua Ip on Asian poetic forms at the SA Writers Centre…Thanks Joshua for enthusiastic insight and instruction in forms of poetry (many of them unfamiliar to me) and the opportunity to see and hear his unique work (we swapped poetry books of course!) I hope to work with some of the forms and hopefully produce some publishable work over the next few months.' Rob Walker, poet (blog)
'Joshua Ip is one cool guy, and he knows how to run a workshop… A good group of participants fully engaged by a guy who knew his subject, knew how to put it across, listened intently to his students, kept the subject entertaining, and covered a lot of ground in the three hours available. I've heard of haiku, and renga and tanka and ghazal and pantuns, but I'd never heard of empat perkataan or liwuli. Great to come away from a workshop with new knowledge.' Blog: mistakenforarealpoet
---
Listen
National Library of Australia event: 10 August 2015: Hear Professor Julianne Schultz AM, founding editor of Griffith Review, and three outstanding young writers as they provide fresh perspectives on life in the world's most populous region Miguel Syjuco (the Philippines), Annie Zaidi (India) and Sheng Keyi (China) delve into the many facets of their countries, from the powerful and the powerless to the complexities of culture, politics and modernisation. Each writer describes what their country feels like up close and personal, with an insider's eye and passion.
Throughout human history, clothing has been associated with power. In 'Embodying Venus' Indian writer Annie Zaidi explores the idea of shame which is attached to nudity, and the power that it wields: both as a symbol of domination and of protest. Listen to Annie discuss her essay with Amanda Smith on ABC Radio National Body Sphere.
---
Watch
Perspectives Asia event: 2 September 2015: In conversation with Griffith Review's Julianne Schultz, three writers provide fresh perspectives on life in Asia's most dynamic and powerful countries. Murong Xuecun reveals potentially dangerous undercurrents in China, while Singaporean poet Joshua Ip and Indonesian author Maggie Tiojakin describe ripples that there's more than is generally known about their nations.
---
With thanks
This project has been assisted by the Australian Government through the Australia Council for the Arts, its arts funding and advisory board.
This project is supported by the Commonwealth Government through the Australia–China Council and the Australia–Indonesia Institute of the Department of Foreign Affairs and Trade.
The project is also supported by a private benefactor 'in memory of Bettie Kornhauser and the gentle people of Burma'.
Featured Contributors
---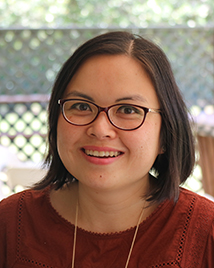 Sheila Ngoc Pham is a writer, producer and radio maker. She is currently a PhD candidate at the Australian...
Stay up to date with the latest, news, articles and special offers from Griffith Review.