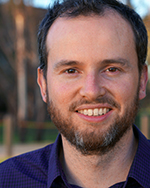 Cameron Muir's essays and reporting have appeared in Griffith Review, Meanjin, Inside Story, Overland, The Guardian, Australian Book Review, Wild Magazine, The Canberra Times, and Best Australian Science Writing, among others. He is co-editor with Kirsten Wehner and Jenny Newell of Living with the Anthropocene: Love, loss and hope in the face of environmental crisis (NewSouth, 2019). His work has been shortlisted for the NSW Premier's History Awards, the Eureka Prize for Science Journalism, and the Bragg Prize for Science Writing.
---
Pieces by Cameron Muir
Weaponising privilege
Edition 67: Matters of Trust
Ghost species and shadow places
Edition 63: Writing the Country
The remixing of peoples
Edition 57: Perils of Populism
Powering Asia
Edition 49: New Asia Now
Is your history my history?
Edition 13: The Next Big Thing
Feeding the world
Edition 27: Food Chain
Marrying health and agriculture
Edition 36: What Is Australia For?