An online conversation from
Griffith Review 69: The European Exchange
6pm AEDT, Thursday 10 December 2020
COVID-19 has changed our world. Australia's international border has been effectively closed since March and the continent seems more distant than ever from places and people that have long influenced and informed it – including Europe, with its dialogues and its diversity.
How do we keep global engagement alive in these challenging times? How can we stay open to ideas beyond our own national frame? Do closed borders inevitably lead to closed minds?
Join key contributors to Griffith Review 69: The European Exchange – published during this pandemic – for a discussion about Australia's relationship with Europe, and how that longstanding exchange can be a resource for the future.
Whitlam Institute Director Leanne Smith will facilitate a Zoom conversation between Natasha Cica, David Morris, Sally Wheeler and Christos Tsiolkas.
Griffith Review 69: The European Exchange is co-edited by Natasha Cica and Ashley Hay and published in partnership with the Australian National University. The edition examines the deep and complex connections between Europe and Australia and explores how Australians of many backgrounds have contributed to a longstanding dialogue that enriches both continents.
About the panel:
Natasha Cica is director of the change consultancy Kapacity.org. She is a former CEO of Heide Museum of Modern Art, established the Inglis Clark Centre at the University of Tasmania, and was the founding editor of newmatilda.com. She has been recognised by the Australian Financial Review as one of Australia's 100 Women of Influence and was an inaugural Sidney Myer Creative Fellow.
David Morris is a former Australian diplomat and political adviser who has lived between Australia, Europe and Asia, most recently representing the Pacific Islands Forum Secretariat in China. He is a Senior Research Fellow, Beijing Foreign Studies University, and Vice President, Sustainable Business Network, United Nations Economic and Social Commission for Asia and the Pacific. Currently he is based in Budapest, Hungary.
Sally Wheeler is the Pro-Vice Chancellor for International Strategy at the Australian National University. She joined the university as the Dean of the ANU College of Law in early 2018, a role she continues to hold. Prior to this she was Pro-Vice Chancellor for Research and Enterprise at Queen's University Belfast.
Christos Tsiolkas is the author of the novels  Loaded, The Jesus Man, Dead Europe, The Slap, Barracuda and Damascus. He is also a playwright, essayist and scriptwriter whose work has been adapted for screen and for stage, and he is the film reviewer for The Saturday Paper.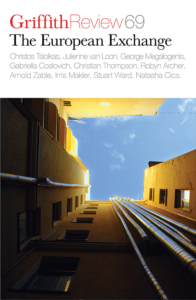 Now, more than ever, Australia's writers
need readers for their work.
Single editions of Griffith Review 69: The European Exchange, are available now. Or you can visit our store and purchase a subscription. You will receive the current and next three editions of Griffith Review, and if you buy a subscription before 31 December 2020 you will also receive a free digital subscription to gift to a loved one. Details here.