Brisbane Writers Festival and Griffith Review 71: Remaking the Balance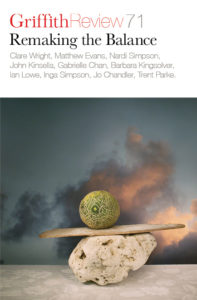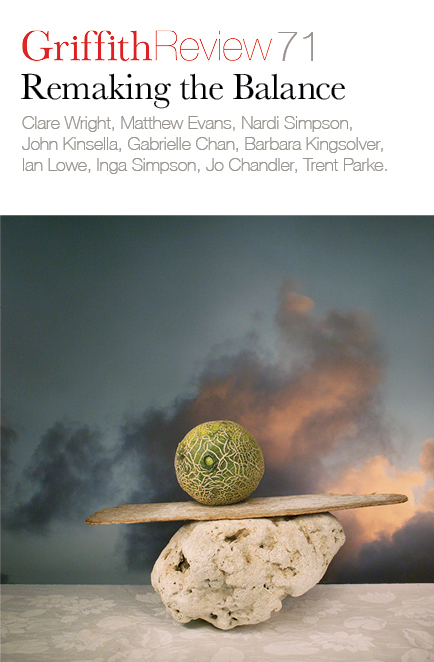 When: 11 am, Sunday 9 May 2021
Where: Auditorium 1, State Library of Queensland
Tickets: Available here
Griffith Review 71: Remaking the Balance contributors Chris Flynn, Sophie Cunningham and Nardi Simpson join Griffith Review Editor Ashley Hay to talk rupture and resources: animal, vegetable, mineral and more. What happens when a penguin's speech transcends anthropomorphism, when our capacities for hope are exercised like muscles, when trade is transformed into a generous exchange? How might these ideas – and more – change what we do with what we have?
About the panellists
Sophie Cunningham is the author of six books, including City of Trees: Essays on Life, Death and the Need for a Forest (Text, 2020). She is also the editor of the collection Fire, Flood, Plague: Australian writers respond to 2020 (Vintage, 2020).
Chris Flynn is the author of Mammoth (UQP, 2020), The Glass Kingdom (Text, 2014) and A Tiger in Eden (Text, 2012), which was shortlisted for the Commonwealth Book Prize. His fiction and non-fiction have appeared in The Age, The Australian, The Guardian, Meanjin, Australian Book Review, The Saturday Paper, The Big Issue, McSweeney's and many others.
Nardi Simpson is a Yuwaalaraay storyteller from NSW freshwater floodplain. A 2018 black&write! fellow, her debut novel, Song of the Crocodile, is published by Hachette.
Now, more than ever, Australia's writers
need readers for their work.
Single editions of Griffith Review are available now. Or you can visit our store and purchase a subscription – you will receive the current and next three editions of Griffith Review!