In addition to being a writer, you're an installation artist, among other things. Do you think writing and art provide any similar skills, or a specific pleasure? Does your writing cross over into your installation work, or vice versa?
For me they're very different ways of coming at similar ideas. With writing, the pleasure is in singularity, having the time and space to tease something out. I rent a house out in the bush, and I spend every second week there by myself. I have no phone reception and 90s era internet, and it's perfect for going down into something and staying there. I love spending so much time playing with words and voice, which seem particular to writing. The other week I was writing a character who had a drawling, laconic accent, and when I went into town to shop, I had to catch myself from speaking in that accent. I realised I'd been thinking in this guy's voice for days. Which may or may not be a healthy thing!
My installation and festival work is almost the exact opposite in terms of the skills involved. It's intensely collaborative and public, and that's reflected in the fact that I spend every other week living in a giant six-person share house in Brunswick. Working on arts festivals and installations is about the networks and communities around you, and the pleasure is in trying to connect people and ideas in interesting ways.
Much of my own installation work is itself about this public / private divide and how it connects to community. For Insecurity System, we conducted surveillance on our own house, using home security technology to reveal rather than protect how we live. With CLEAN, for the Next Wave / Commonwealth Games Youth Cultural Program, I spent months in the Melbourne CBD recording the clean-up of injecting drug users, homeless, skaters and graff artists. When the Games arrived, we used hidden speakers and motion sensors, installed in inner-city laneways, to bring the 'ghosts' of the filthy side of the city back to life. With all these projects, I work with big collaborative teams. My most recent installation, a huge hanging garden structured as a data visualisation, was a collaboration with climate scientists, a geographer, a statistician and psychologist, a landscape architect, horticulturalists, a structural engineer, educators, teachers and hundreds of kids. So a fair bit of my installation work is actually project management.
There's occasionally overlap between the writing and art. The hanging garden project included co-writing stories for kids and an academic conference paper for the Royal Geography Society in London. Generally, though, the two fit fairly neatly into this country / city, private / public, solo / collaborative framework.

You are also the Manager of the Writing Program at Asialink, which strives to promote cultural collaboration between Australians and artists and writers in Asia. What has been one highlight or surprise while working in this capacity?
A recent highlight was a tour to Korea in May this year. I took four amazing poets, Barry Hill, Terry Jaensch, Ivy Alvarez and David Prater, to present work at the Third International Seoul Forum for Literature. We did a residency at the Yeonhui Writers Village, which is literally next door to the house of former dictator Jun Do Hwan. I found it fascinating that Korea's leading writers, some of whom were critics of his regime, are working over his back fence.
The real highlight of that visit was a three-day, three-night tour of the underbelly of Seoul, led by some super-generous locals: architect Kim Hyung Seok, designer Kim Sang Do, and arts manager Shin Bo Yeon. They gave us some fascinating insights into the unseen side of Korean culture, including how older generations live (and dance!), migrant worker populations, traditional shamen practicing in a super high-tech city, and forgotten architectural precincts that promised Modernity and reunification, but now house a kind of offline, hardcopy version of the seedier side of the internet - Viagra, spy cams, porn, wiretaps. I found it incredibly illuminating to see the unofficial side of a culture, and it's given me food for thought about different forms of collaboration and exchange in the future.

Your story 'Octopus' takes place on an island off an island. Do New Zealanders carry a sense of island mentality and how does that affect you and your writing?
The traditional position has always been that there's an island mentality in New Zealand. In its positive incarnation it's been taken to mean we're self-reliant, and resilient and proud. Its negative aspects are expressed as isolation, marginalisation and cultural cringe. I certainly felt both when I was growing up, and most strongly that the action was elsewhere. I was pretty restless though, and it's hard to gauge whether that binary is really true. Net culture and cheap international travel, plus some incredible local cultural production, particularly in terms of music, means that geographical isolation doesn't carry the same weight. We're more visible to the rest of the world, and can participate in it more readily.
If anything, there might be a new, more globalised island mentality emerging, which is still based in the physical landscapes of New Zealand, and their relative isolation, but whose boundaries aren't limited by the ocean. Something like a sixth of Kiwis live overseas, and I reckon a fair number of those living abroad still see themselves as part of the country. So the island's borders, and its identity, are becoming more porous and fluid. New Zealand and its shores are present in my imagination and in some of my work, but I'm not circumscribed by them.

What prompted you to write this particular story?
In a way, 'Octopus' is based on a true story. It started with a trip to Rakiura, or Stewart Island, off the south coast of the South Island. I was heading over on the launch with my brother and some mates to do a ten-day tramp, and as we headed into Half-Moon Bay I noticed this huge, purple-black stain just under the surface of the water. It was some trick of the light that far south, but my imagination immediately turned it into a giant octopus. Then, when we arrived back from the bush ten days later, there was a bunch of hard-arse young guys roaring round, on both sides of the road, on hired motor scooters. They were still in their high-vis gear, and were clearly bored out of their minds, having come to the island to build new roads. The local cop was standing there watching, and he just shook his head and said he wouldn't bother chasing them - he knew where they lived.
The third element was that shortly after, the New Zealand police used terrorism legislation to conduct massive raids on a small Maori township called Ruatoki, alleging that there was a terrorist training camp in the hills. Ruatoki is in the Tuhoe tribe's area, and there's a long history of land confiscation and therefore grievance against the Crown. The state sent in three hundred armed cops, even stopping the school bus at gunpoint. They found a grand total of four old rifles at a hunting camp. No terrorism charges have been laid, and they're left trying to pin unregistered firearm and cannabis charges on the four who remain on trial. It seems the arrests were based on angry people shooting their mouths off - their intercepted plot to assassinate George Bush amounted to talk of catapulting a bus at his head - and the whole thing was primarily generated by a paranoid police culture. There's an incredible documentary about it called Operation 8 if anyone's interested. I wanted to write about all of this, but in an oblique way - about immature politics and real grievances, and reactions and over-reactions.
Somehow these three elements came together, and were unified by the album cover of the Fat Freddys Drop album, Based on a True Story!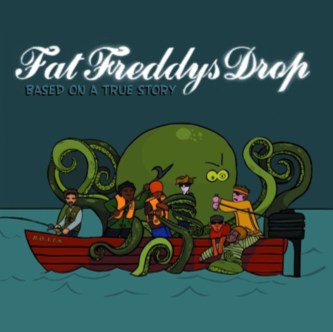 You are one of the recipients of this year's GREW Prize for Nonfiction writing, and you have an essay on the Christchurch earthquakes that will appear in Griffith REVIEW 35. How do you manage both fiction and non-fiction writing?
It seems like a lot of writers these days write both, and there's increasingly an overlap in terms of technique. The non-fiction I love and would one day like to write is that which borrows heavily from novel-writing: character, voice, mood and narrative. Obviously with non-fiction, research and interviewing are paramount, but these techniques are equally necessary with fiction. I've been working on a historical fiction manuscript, and I've done a lot of research for that, about Chinese miners on the goldfields. I think I was the youngest ever member of the Avoca and District Historical Society!

What are you working on now?
Right now I'm working on a number of short stories in the same vein as 'Octopus' that take a sideways look at contemporary issues. Current targets are Facebook, the naive ambition of young writers such as myself, and syphilis! I'm also writing a new draft of my novel manuscript, having concluded that the old draft is mostly terrible. There are a few non-fiction pieces in the works as well, one about Christchurch which you mention and is pretty much ready to go, another about Korea. For Asialink, I'm jacking up some writers' tours to India, including creating a portable reading room / library of new Australian books that'll travel with the authors. The library travels in big old suitcases that open and fold out to become ingenious bookcases, complete with seats for visitors and soapboxes for readings and talks. And in terms of installations, I'm just starting one called I Can't Believe it's Not Twitter, which is another house project, and I have a much, much bigger one in the wings, which is a data visualisation project about the health of an entire city, based around a creature that lives in the city's video billboards. Hmm. It sounds a bit mad when I describe it like that. Anyway, watch this space!