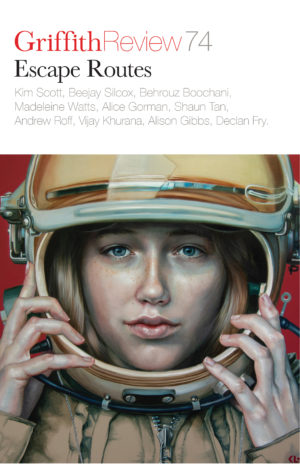 Sometimes, we all need to get away…
Griffith Review 74: Escape Routes plots the course of our daydreams, our transformations and our jailbreaks. It takes us across borders and through open minds to places once out of reach, lighting out for the territory to access new worlds.
Edited by Ashley Hay, Griffith Review 74: Escape Routes features the winners of our Emerging Voices competition – Delcan Fry, Alison Gibbs, Vijay Khurana and Andrew Roff – plus new work from Behrouz Boochani, Madeleine Watts, Kim Scott, Peggy Frew and Beejay Silcox, among many others.
Contact PopUp – Content
Office Address
Griffith Review
Building s02, South Bank, Campus – Griffith University
Grey Street, South Bank 4101 Australia
Mailing Address
Griffith Review
South Bank Campus, Griffith University
PO Box 3370, South Brisbane 4101, Australia
Media Enquiries
Cinnamon Watson Publicity
Email: [email protected]
Phone: +61 432 219 643