Launch – Griffith Review 70: Generosities of Spirit
Wherever you are, you're invited! 
Launch of Griffith Review 70: Generosities of Spirit . 
When: 6.30–7.30pm, Thursday 12 November 2020
Where: Zoom event hosted by Avid Reader
Tickets: Free! Register here
The end of this challenging year feels like a good time to be exploring and celebrating generosities of spirit with powerful short fiction, non-fiction and poetry from an exciting range of emerging and established voices.
Join Generosities of Spirit featured authors Allanah Hunt, Kate Veitch, Rhianna Boyle and Kristina Olsson in conversation with Griffith Review Managing Editor John Tague as they reflect on the year that was. This very special event celebrates the winners of Griffith Review's latest Novella Project and showcases two of its featured poets, Rebecca Jessen and Zenobia Frost.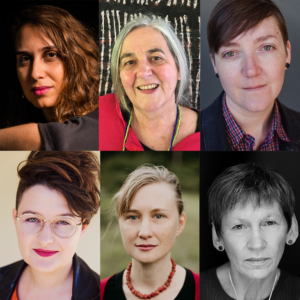 Allanah Hunt is a Barkindji woman completing her creative writing PhD through Anglia Ruskin University, UK. She has published several short stories, and two of her manuscripts were highly commended in the black&write! Inaugural writing fellowships.
Kate  Veitch is the author of two novels, Listen (2006) and Trust (2010), both published by Penguin, and is currently at work putting together a 'family' of five linked novellas.
Rebecca Jessen's Gap (2014) and Ask Me About the Future (2020) are both published by UQP.
Zenobia Frost is an award-winning poet whose most recent collection, After the Demolition (Cordite Books, 2019), was shortlisted for the Kenneth Slessor Prize for Poetry.
Rhianna Boyle has written about science and conservation for publications including The Lifted Brow, The Big Issue and The Best Australian Science Writing.
Kristina Olsson is an award-winning writer of fiction, non-fiction and journalism. Her most recent novel, Shell, was published by Scribner Australia in 2018 and shortlisted for several literary awards.
Now, more than ever, Australia's writers
need readers for their work.
Single editions of Griffith Review 70: Generosities of Spirit, are available now. Or you can visit our store and purchase a subscription. You will receive the current and next three copies of Griffith Review, and if you buy a subscription before 31 December 2020 you will also receive a free digital subscription to gift to a loved one. Details here.