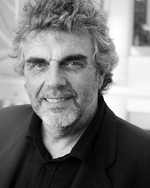 Tony Barrell was an adjunct professor in Arts and Social Science at the University of Technology Sydney and had been making features and documentaries for ABC radio and television for more than 20 years.
He began his career with Double Jay, had been a producer for Background Briefing and Foreign Correspondent and a reporter with Four Corners. He had made radio documentaries in and about the USA, Europe, and several Asian countries, including four series in collaboration with the BBC World Service. His 1995 Tokyo's Burning, the story of the firebombing of the Japanese capital in March 1945, won a Prix Italia.
He was founder producer of both Radio Eye and the Night Air and had made made three co-production series for Radio National and the BBC World Service travelling through Japan, South Korea, Vietnam, and in 2004, the Russian Far East (the subject of his book, The Real Far East, Scribe, 2006). In 2005, for Hindsight, he produced Remembering Eveleigh, the story of the NSW railway workshops, and, for Street Stories, Single at Sixty (published in 2007 by ABC Books).
In 1993 he produced a radio documentary about the near-demise of the Sydney Swans – Cheers. Tony was a dedicated follower of the Australian game which he came to know after migrating from the UK.
Stay up to date with the latest, news, articles and special offers from Griffith Review.