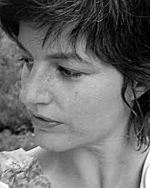 A decade after being thrown out of Japan with just a string bag, writer and artist Charlotte Teek is now living out of a suitcase.
'Lost in transit' (Griffith REVIEW Edition 18) is an excerpt from her manuscript Box People, a novel inspired by 18 months in regional Japan and Abe Kobo's 1973 surrealist classic The Boxman.
Having just spent two years governessing on a cattle station 500 kilometres north east of Alice (baby son Joseph in tow), she is currently working on The Desert Eye – part thriller, part psycho-drama, part romance.
---
Pieces by Charlotte Teek