Online event – Hey, Utopia! Imagining a Better Future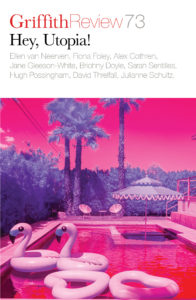 When: 6:00 pm – 7:00 pm AEST, Tuesday 31 August 2021
Where: Online. Register here.
Griffith University Alumni Relations and Griffith Review are delighted to invite you to join Griffith University Vice Chancellor and President Professor Carolyn Evans for an online panel discussion inspired by the latest edition of Griffith Review.
Griffith Review 73: Hey, Utopia! explores the ramifications of utopian thinking through a range of contexts including policy and politics, people-power, philosophy and more. What are the possibilities and pitfalls of utopian thinking? What is the future of change-making in a post-pandemic world?
Join editor of Griffith Review Dr Ashley Hay for a thought-provoking and engaging conversation featuring Professor Danielle Celermajer, Amanda Tattersall and Councillor Jess Scully as they navigate other ways the world could be. Participants will have the opportunity to ask questions and engage with speakers during this discussion and via a Q&A session at the end.
About the panellists:
Danielle Celermajer is a professor in the Department of Sociology and Social Policy at the University of Sydney, deputy director (academic) of the Sydney Environment Institute and convenor of the Multispecies Justice Collective. Her books include The Sins of the Nation and the Ritual of Apologies and The Prevention of Torture: An Ecological Approach (both with Cambridge University Press) and Summertime (Penguin Random House, 2021).
Professor Carolyn Evans has been Vice Chancellor and President of Griffith University since 2019. Before this, she was Deputy Vice-Chancellor (Graduate and International) and Deputy Provost (2017-2018), and Dean, Law (2011-2017) at Melbourne University. A Rhodes Scholar who completed her doctorate at Oxford and a Fulbright Scholar, Professor Evans is an internationally recognised expert on religious freedom and the relationship between law and religion. In 2019 she was elected as a Fellow of the Academy of the Social Sciences in Australia, became Chair of the Innovative Research Universities Group and a member of the organisation, Chief Executive Women.
Ashley Hay is the editor of Griffith Review, a former literary editor of The Bulletin, and a prize-winning author who has published three novels and four books of narrative non-fiction. Her work has won several awards, including the 2013 Colin Roderick Prize and the People's Choice Award in the 2014 NSW Premier's Prize. She has also been longlisted for the Miles Franklin and the International IMPAC Dublin Literary Award, and shortlisted for prizes including the Commonwealth Writers' Prize and the Kibble. In 2014, she edited the anthology Best Australian Science Writing.
Jess Scully uses creativity to engage people in the future economy and with urban life in the twenty-first century, working towards a sustainable and inclusive world. In 2019 she was elected as Deputy Lord Mayor of the City of Sydney and has been a councillor since 2016. Previously, Jess founded Vivid Ideas, Australia's largest creative industries event; supported emerging talent through projects such as the Qantas Spirit of Youth Awards; sparked new thinking through TEDxSydney and transformed public space as a public art curator. She has also worked as a policy advisor, radio host and magazine editor. Her first book, Glimpses of Utopia, was published by Pantera Press in August 2020."
Amanda Tattersall is a community organiser, researcher and former official at Unions NSW. She founded the Sydney Alliance, co-founded GetUp! and is host of the ChangeMakers Podcast. She is the author of Power in Coalition: Strategies for Strong Unions and Social Change. She is currently the research and education lead at the University of Sydney's Sydney Policy Lab.
---
Hey, Utopia! features contributions from Ellen van Neerven, Fiona Foley, Alex Cothren, Jane Gleeson-White, Briohny Doyle, Sarah Sentilles, David Threlfall, Julianne Schultz and many more…
---
Now, more than ever, Australia's writers
need readers for their work
Editions of Griffith Review 73: Hey, Utopia! are available in bookshops and online from 3 August 2021. Or you can visit our store and purchase a subscription. You'll receive the current and next three editions of Griffith Review!