Founding Patron – Margaret Mittelheuser (Dec)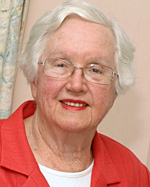 Griffith Review was saddened by the the passing of its Founding Patron, Margaret Mittelheuser
(25 July 1931 – 27 December 2013).
Margaret's extraordinary career and her contribution to community reflected Griffith Review's mission to develop the quality and impact of Australian public debate – locally, regionally and globally – with a Queensland accent.
Margaret was a great supporter of Griffith Review and her story was featured in Kristina Olsson's
Griffith Review 40: WOMEN & POWER essay, 'Getting on with it'.
She was the first woman to be registered as a stockbroker in Australia and among the first in the world. In a career spanning more than fifty years, Margaret was involved in all of the main areas of stockbroking and conducted considerable business in the United Kingdom, Norway, Papua New Guinea and the Solomon Islands.
Upon retiring from ABN Amro Morgans in 2005, she was one of Australia's longest serving stockbrokers, and served as a trailblazer and role model for women in the finance industry.
In addition to her stockbroking activities, Margaret was committed to the community. She made significant contributions to a number of arts and charitable organisations including the Queensland Art Gallery, the Girl Guides Association (Qld), the Australian Federation of University Women, and the Board of Trustees of Brisbane Girls' Grammar School and their Restoration and Building Appeal. She also served as Chair of the Queensland Local Government Superannuation Board, as a Director of the Queensland Philharmonic Orchestra, and as a member of the Queensland Mortgage Secondary Market Board and the Board of Queensland Rail.
Her contributions to the community were recognised by numerous awards and honours, including the Olave Medal by the Girl Guides Association (Qld), and in 1996 she was made a member of the Order of Australia for her service to the finance industry and to the community. She received the honorary degree of Doctor of Philosophy from the University of Queensland and in 2003 was awarded the Centenary Medal for distinguished service to business and commerce. In 2006, Griffith University awarded her the honorary Degree of Doctor of the University.
We extend our condolences to Margaret's sister, Cathryn, who cared for Margaret during her long period of illness, and to her wider family and many friends.
Stay up to date with the latest, news, articles and special offers from Griffith Review.