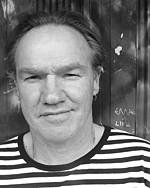 Tony Birch has published the short story collections Shadowboxing (Scribe, 2006), Father's Day (Hunter, 2009), The Promise (UQP, 2011), Common People (UQP, 2017) and Dark As Last Night (UQP, 2021).
His first novel, Blood, was published by UQP in 2011 and was shortlisted for the Miles Franklin Award. His other novels are Ghost River (UQP, 2015) and The White Girl (UQP, 2019).
He was awarded the Patrick White Literary Prize in 2017.
---
Pieces by Tony Birch
Finding you above Kyoto
Edition 70: Generosities of Spirit –
The Novella Project VIII
Things of stone and wood and wool
Edition 68: Getting On
Bobby Moses
Edition 63: Writing the Country
Recovering a narrative of place
Edition 60: First Things First
The great unmapping project of 2016
Edition 52: Imagining the Future
The ghost river
Edition 42: Once Upon a Time in Oz
The lovers
Edition 34: The Annual Fiction Edition