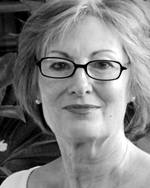 Born in Zimbabwe and based in Perth, Tangea Tansley is the author of several books including the newly released novel Out of Place (2014) and the critically acclaimed A Break in the Chain:The Early Kozminskys (2011).
Her short stories, essays and articles have been broadcast on ABC Radio National and published in national and international journals, magazines and newspapers.
She was joint-winner of the 2013 Todhunter Literary Award for one of her short stories while others have been anthologised and shortlisted in other national awards including the Julie Lewis and the A B Natoli. She is also the winner of the Launceston Tasmania Literary Award 2015 for her short story, My Mother Was A Russian Spy.
She has a background in magazine editing and publishing, journalism and university lecturing.
She can be contacted through her website.

Stay up to date with the latest, news, articles and special offers from Griffith Review.