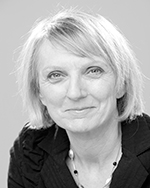 Helen Trinca grew up in Perth and moved to Sydney in 1980. She has held a number of senior jobs in Australian journalism and is at present managing editor of the Australian. 
Helen has co-authored two books on work and industrial issues: Waterfront: The Battle That Changed Australia (with Anne Davies) (Random House, 2000); and Better than Sex: How a Whole Generation Got Hooked on Work (with Catherine Fox) (Random House, 2004). 
She is the author of the biography Madeleine: A Life of Madeleine St John (Text Publishing, 2013).
Stay up to date with the latest, news, articles and special offers from Griffith Review.