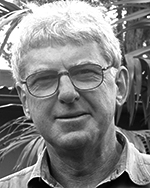 Graeme Gibson has worked extensively as an adult educator and facilitator, primarily in the community services and environment sectors. This came after earlier stretches working in a bank and then mowing lawns.
Writing is an increasing focus, particularly essay, with public issues and nature/ place writing being of special interest. Graeme also presents writing workshops. He is completing a post graduate writing program at Swinburne. 
He has self-published, Beyond Fear and Loathing: local politics at work, a book based on personal experience from where he lives, at Jervis Bay on the NSW south coast. Some of his work is at www.morethanjusttalk.com.au
Stay up to date with the latest, news, articles and special offers from Griffith Review.