Gabrielle Carey (1959–2023)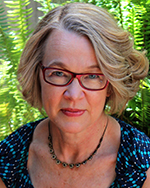 Gabrielle Carey published her first co-written book, Puberty Blues (McPhee Gribble), in 1979. She went on to publish In My Father's House (Pan Macmillan, 1992), a biography of her father; Waiting Room (Scribe, 2009), a memoir of her mother; and a book of personal essays, So Many Selves (ABC Books, 2006), among more. Her Moving Among Strangers (UQP, 2013) was the joint winner of the 2014 Prime Minister's Award for Non-Fiction and shortlisted for the 2015 National Biography Award.
Stay up to date with the latest, news, articles and special offers from Griffith Review.