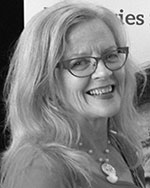 Anna Haebich is a scholar of international repute known for her multi-disciplinary and cross-cultural approaches to research.
She is the author of the multi-award winning Broken Circles: Fragmenting Indigenous Families 1800-2000 (Fremantle, 2000), the first national history of Australia's Stolen Generations, and the definitive history For their Own Good: Aborigines and Government in the Southwest of Western Australia 1900-1940 (UWA Press, 1992). Spinning the Dream: Assimilation in Australia (Fremantle, 2008) meticulously assesses the implications of assimilation for Australia's Indigenous and ethnic minorities. Murdering Stepmothers: the Execution of Martha Rendell (UWA, 2010) is a ground-breaking fictional interpretation of a controversial Australian murder case.


She is a John Curtin distinguished professor at Curtin University, a fellow of the Australian Academy of Humanities and the Australian Academy of Social Sciences. She is a member of the editorial advisory committee for Griffith Review and co-edited Griffith Review 47: Looking West.
---
Pieces by Anna Haebich
Ancestors' words
Edition 60: First Things First
The return of the Carrolup drawings
Edition 47: Looking West
From the edge of the edge
Edition 47: Looking West
From karaoke to Noongaroke
Edition 44: Cultural Solutions
Retro-assimilation
Edition 15: Divided Nation