YVONNE DE CARLO was a Canadian-born, American movie actor. The famous beauty was at the height of her film career in the 1940s and 1950s. In 1956 she won a leading role in Cecil B De Mille's epic movie The Ten Commandments. Cast as Zephora, her character was the wife of Moses, played by Charlton Heston. But offers of big-screen roles became scarce for De Carlo and, in the year that I was born, 1964, she moved to the small screen to take on what became her most famous role, as Lily Munster in the hit television series The Munsters. Although the series aired for only two seasons, re-runs gave it a remarkably prolonged life and won her generations of fans.[i] On the Sunday after my ninth birthday, I met her.
De Carlo was in Sydney performing in a stage production, and my uncle had heard through the arts community grapevine that she wanted her photograph taken with some Aboriginal children for a newspaper article. He rang my mother and asked if my sister and I would like to have our 'photo in the paper'.
That day my grandmother and my mother were very meticulous in making sure we looked our best. We wore our nicest dresses, long socks and patent leather shoes. I remember being driven over the Sydney Harbour Bridge to a large, high-rise hotel on the inner city's north shore. Once there we were directed to a little playground near the car park out the back where we met up with the newspaper photographer, and four other Aboriginal children.
It seemed like such a long wait before De Carlo finally arrived. When we were introduced to her she smiled warmly, and leaned forward to shake our little hands. I thought she was the most glamorous lady I had ever seen and I liked her instantly. As she turned away to talk to the photographer, the indivisible smell of hairspray lingered in the space where she stood; and I stepped into it, giggling as I inhaled the fragrant air. She wore a brightly coloured, tropical print dress and had lovely painted fingernails. Her jet-black, dyed hair was teased up high into a half up/half down bouffant hairstyle. The blackness of her heavily painted eye-liner against her whiter-than-white, powdered skin reminded me of Veronica from the Archiecomics I loved to read.
Becoming impatient, the photographer asked us all to climb on the monkey bars and only one or two shots were taken before my sister and I were separated from the group. We were asked to stay where we were, and the other children were taken over to the swing where the shoot continued. My sister and I silently stood and watched.
A day or two later, a photograph of Yvonne De Carlo with Aboriginal children was indeed printed in the Sydney Morning Herald. It was accompanied by a few sentences explaining that she was appearing the following week in 'A Night of Stars' to finance a ballet scholarship for Aborigines. My sister and I were not in the photograph. My mother and my grandmother were furious.
'That photographer chose those other kids over you because they don't want to show Aborigines as educated, well-dressed people,' my mother raged through pursed lips. 'They want to hold us down. They've got this idea of us as being down-trodden, poor people and they don't want to change it. You never see good pictures of us or good stories about us, because they won't print them. You girls didn't fit the stereotype!'
Obviously I didn't have a clue what 'the stereotype' was, but whatever it was...it certainly didn't feel very good. I was crushed. I remember thinking, 'Why would they do such a horrible thing?', but not having the intellect or the maturity to be fuelled with a similar kind of righteous anger as my mother, I remember taking it very personally and feeling a deep, heartfelt sadness.
As an Aboriginal child in the '70s, I experienced several incidents of negative stereotyping that engendered in me an inherent sense of separation from the mainstream. Some were more painful than others and ranged in intensity from relatively simple insults in the microcosm of the primary school playground, to more malicious mindsets of the macrocosm of society at the time.
A number of psychologists have suggested that although self-esteem is an individual characteristic, there is another basis of self-worth and identity called the 'collective self.' This is the self as a member of a family, ethnic heritage, peer group or team.
Our self-esteem is not only influenced by individual qualities, but also by our collective self-esteem, which is the sense of the worth of the group to which we belong. When children are faced with constant reminders, whether subliminal or blatant, that their racial or family group has less status and power, the basis for the collective self-esteem can diminish.[ii]With hindsight, it's no surprise I went on to harbour a lack of self-esteem that was to continue well into my teens and beyond.
MY FATHER WAS in the Army and we lived at Holsworthy Army barracks in the outer western suburbs of Sydney. From 1969 to 1974 I attended Holsworthy Primary School. All of the students enrolled at the school were children of Defence Force staff. It seems almost incomprehensible today, but our school population was made up entirely of white-Australian children. Apart from my siblings and a younger cousin, there were no other minorities at our school. It seemed as though the 'New Australians' (polite society's description of the people who immigrated to Australia), hadn't yet arrived in the western suburbs. We were the school's only 'other'.
The school curriculum supported misconceptions and stereotypes about Aborigines by using outdated resources, because they simply didn't have anything else. I remember cringing with embarrassment as my teacher held up a poster of a traditional Aboriginal man (naked with his spear, woomera and his recently killed kangaroo slung over his shoulder) and said, 'This, boys and girls is an Aborigine, and Year Four did you know that Shauna is also an Aborigine?' My teacher smiled consolingly while all eyes targeted me. I was mortified!
I always knew I was Aboriginal, but I didn't live a traditional life like that man. The kids at school teased me and made a performance out of inspecting my lunchbox to see if there were any witchetty grubs in it. My mother and father told us we were Aboriginal and expected us to be proud of it, but they didn't provide us with any knowledge or strategies that could empower us. As a child, all ever I knew about our family history was that our mob were 'from the mission'…whatever that meant.
One thing I did know with great certainty was that I didn't fit in with the white kids at school, or the traditional man in the poster. I didn't know where I belonged.
We moved to Queensland in the late '70s and my mother became a primary school teacher. Interestingly, when she told her class she was an Aborigine, the children didn't believe her. Puzzled, she asked why, and their response was, 'Well, Mrs B, you wear nice clothes, and you drive a car…' Later, she was seconded into what was then called the 'Head Office' of the Education Department as the first Aboriginal Resources Officer in Queensland. She immediately set about organising the production of updated resources for schools that presented positive images of Aboriginal and Torres Strait Islander people working in important occupations, and contributing to their urban community.
Many positive changes have been implemented in schools since then, and now schools have evolved to be places where, contrary to my upbringing, my daughter's cultural heritage is celebrated. Nevertheless I want her to know the history of Aboriginal and Torres Strait Islander people in this country, and in particular our family history. I began collecting stories.
ALTHOUGH I HAVE my own memories of the Yvonne De Carlo photo shoot in 1973, I wanted to interview my mother and my sister to find out what their memories were. I can vividly recall my mother's fury, but I don't have any memory of whether I understood what a stereotype was after this incident. So I asked my mother if she ever explained it to us, and if she did, what did she say to her young daughters back then?
'Well,' she said, 'When you kids were disappointed that they didn't use the photograph of you, I said that this sometimes happens…so don't worry about it. Believe in yourself and hold your head high. Your whole future is ahead of you, so be positive. Better things will happen to you in the future.'
I couldn't believe what I was hearing. The words used in this post-millennium spin were definitely not the words of an angry Aboriginal woman in the '70s. I argued, 'But Mum, that's not how I remember it! You didn't say that at all! You were very angry and bitter about it, and you harped on about it for years.' The door on this conversation was soundly closed when my mother suggested that I could write whatever I liked.
My sister remembered it exactly as I did. She works as an Indigenous Resources Officer in a library, and she went on to explain that when she is giving talks to school groups and library visitors, she uses the story of this incident as an example of the stereotypes that our people had to endure in the past.
It suddenly occurred to me there was a possibility I could sample some fresh insight if I could locate the original newspaper article. I found the article easily in the online archives. The black and white image on the computer bringing back memories of that day in an instant. Yvonne De Carlo sitting on a swing with two children beside her.
I wondered if the photographs taken that day still existed, and emailed an inquiry to the newspaper's archivist. A few days later she sent word that four negatives did exist, and she uploaded the prints of these on their website for me to choose from. The photos were watermarked, but I could clearly see that my sister and I appeared in one shot. Immediately I ordered a copy of one similar to the published print, and the one of my sister and I on the monkey bars with the other children.
When the prints arrived I sat and stared at them for a very long time.My eyes extracted every detail. For several decades I have believed my sister and I were deliberately cast aside so the newspaper could once again illustrate their stereotypical view of Aboriginal people. But I didn't see that when I looked at the photographs. All I could see were two Aboriginal children who deserved to have their photograph in the newspaper just as much as we did. We didn't look very different. Was my mother just being a snob? Did I go through all the heartache and pain of rejection for nothing?
My sister on the other hand was adamant our omission was a blatant case of media stereotyping, and she told me in no uncertain terms she would continue to use the incident in her lectures.
How malleable memories can be.
As an Aboriginal woman in my late forties, I have experienced many incidents of racism and negative stereotyping in my life, yet up to now, I have never really questioned any negative attitudes that I or my loved ones may have held over the years; preferring instead to immediately adopt the victim archetype as a natural consequence of the injustices inflicted upon myself and other Aboriginal people.
Have stereotypes and negative media portrayal of Aborigines affected us (Aboriginal people) in such a profound way that we still continue to see ourselves as victims even today? Additionally, has Australia as a nation evolved over recent 'enlightened' times enough to finally close the door on those old, negative stereotypes, or do they still exist?
IN AN OCTOBER 2011 edition of The National Indigenous Times, Dr Chris Sarra called for 'fellow Indigenous Australians to take control of their own lives.' Dr Sarra has accused some Aboriginal community leaders of conspiring with mainstream Australia to cast Aboriginal and Torres Strait Islander people in the role of victims.
He lamented that too many Aboriginal people 'interiorised' this to the extent that some consider the victim status as part of our culture. Both Dr Sarra's statements, that mainstream Australia has cast Aboriginal and Torres Strait Islander people in the role of victims, and that Aboriginal people have 'interiorised' victimhood as part of our culture,[iii] can be validated by the following experiences my father had.
My father is a Vietnam veteran who has worked tirelessly for the recognition of Aboriginal and Torres Strait Islander Australian Defence Force Veterans. He worked closely with the Returned and Services League (RSL) to organise an annual ceremony to honour and commemorate the active service of Aboriginal and Torres Strait Islander Defence Force members both past and present.
When interviewed by a newspaper reporter, my father was asked if he experienced any racism when he was in the army. In his usual larrikin vernacular he said, 'There was no "black" or "white" in the army, because each soldier thought of himself as green. We were all mates. Occasionally someone would call you a black bastard or something like that; but it was nothing that a good smack in the mouth wouldn't sort out!'
When the article was published, however, the journalist portrayed my father as the victim of racism by reporting that 'when George was in the army, he was called a black bastard and smacked in the mouth', rather than portray him as a strong Aboriginal man who stood up to occasional racism. This interview took place quite recently.
Another situation that again involves my father is a prime example of the 'interiorised victimhood' cited by Dr Chris Sarra.
My father also volunteered as a Murri Court elder (an Aboriginal elder who attended court hearings of Aboriginal offenders). On one occasion he attended the court case of an Aboriginal burglar who had broken into houses at night. A woman who was home alone awoke to find him ransacking a chest of drawers looking for valuables. In court, the man complained that he was being victimised by police because they were always checking up on him.
He added that he and his incarcerated brothers were suffering from post-traumatic stress disorder brought about by the continual round of institutionalisation they have experienced at the hands of whiteman. My father asked him, 'What about the trauma that you have inflicted on that poor woman? How frightened is she when she locks herself in every night? Haven't you institutionalised her?'
In The National Indigenous Times, Dr Chris Sarra stated that;
'While history has no doubt dealt Aboriginal people a questionable hand, there is no need to wallow in it such that it cripples us from acting. When one is busy being the victim or booting the victim, very rarely does one stop to ask: What am I doing to contribute to underachievement?' Dr Sarra believes Aboriginal leaders must stop seeing Aboriginal people in the usual way and see what they have to offer. 'We do have to be accountable for our actions. It's time to assert our place in the nation.'[iv]
I AM A novice historian researching family and Aboriginal history, and even at this relatively early stage of my academic path, I am constantly amazed at how ancestral knowledge can empower us in the present.
Before researching my family history, I had always assumed the lives of my grandparents and other Aborigines on missions were sad and miserable, governed as they were by white oppressors. Several archival discoveries, however, have completely dissolved this assumption.
Early in 2011 I travelled to the Mitchell Library in Sydney to view a collection of papers, photographs and personal items belonging to two missionaries affiliated with the United Aborigines Mission (UAM), Mrs Alma Smith and Mrs Alva Atkins. They were mother and daughter missionaries who spent many years of their lives ministering to my ancestors and other Aborigines at Box Ridge Mission, near Coraki in northern New South Wales in the early 1900s.
Searching through personal diaries, journals and address books I was surprised to find that Mrs Smith kept in contact with my grandmother well after she had married and left the mission. The collection also contained photographs my grandmother had sent to Mrs Smith of my father and his siblings at various times in their childhood. This tangible evidence of an obvious affection between these two very different women clearly contradicted my previous ideas.
Another assumption of mine was that Aboriginal people were powerless victims who had no choice but to accept the rules of the dominant culture. However, recently I discovered a letter my grandfather had sent the Aboriginal Protection Board that provided evidence to the contrary.
My grandfather became a single father with three daughters when his wife deserted them. He arranged to leave the girls at the mission with a non-related Aboriginal woman so that he could travel for work, and he sent money to her for their upkeep. In the letter dated 30 October, 1944, my grandfather informed the board he had taken his children away from Coraki to live with his brother and sister-in-law in a remote country town. He complained that his children were 'being ill-treated and were doing women's work such as scrub floors and so forth [sic].'
The woman was neglecting them and making false accusations to the board that she was not receiving financial support from my grandfather. My mother and her sisters would have stood out as prime candidates for removal, and my mother's family firmly believe that my grandfather's choice to take them from the mission meant that they avoided being part of the Stolen Generation. These defiant acts, plus his refusal to allow my Aunt to accept Aboriginal Protection Board assistance for her education, were clear indicators he was certainly not a powerless victim of the dominant culture.
There is a well-known saying that 'knowledge dispels fear.' For me, researching family and Aboriginal history, investigating stories, unearthing facts and seeking knowledge has had the interesting effect of dispelling sadness.
Delving into the memories of my mother and sister raised questions about my own perception of the past, and an unexpected result was that I was able to put down the burden of sadness that I had carried for decades. Similarly, when the inspection of the individual lives of my ancestors yielded evidence of consensual accommodation, stubborn resistance, and choices that illustrate a degree of independence in the way that they lived their lives, the sadness that I had previously felt for them dissolved.
From my own personal life experience I now understand how important it is for Aboriginal Australians to ensure that future generations have a balanced view of our history, lest we perpetuate Aboriginal victimhood or negatively affect their collective self-esteem.
There are many good, 'against all odds' stories to be found about Aboriginal survival and resilience when researching Aboriginal history. Private stories from my grandparents' time of Aboriginal peoples' kinship and solidarity in looking after each other, to wider, more public stories of early Aboriginal activists like William Cooper and Jack Patten clearly illustrate a strength of character that we, today's Aborigines, can take pride in. I am certain that by providing our youth with such stories we empower them.
In the closing paragraph of his book Telling The Truth About Aboriginal History (Allen and Unwin, 2005), Bain Attwood suggests that if 'anyone is going to take pride in what is truly good about their nation's past, they must also be prepared to accept what is truly bad in it.' He went on to say that:
'Acknowledging the bad does not diminish the good. On the contrary: telling the truth about Aboriginal history can actually help us to pinpoint what was good in the past, the conditions that enabled this good to be achieved, and the lesson this has for us today.'[v]
CONVERSELY, FROM AN Aboriginal perspective, acknowledging the good in Aboriginal history does not diminish the bad. It just adds to the broader scope of knowledge that I believe is key to Aboriginal empowerment.
In a metaphorical, almost biblical way, knowledge provides a better view of the overall journey of Aboriginal people. Knowledge helps us to look back to see the rocky, exhausting road our ancestors have travelled, but it also places us on higher ground where we can see not just where we have come from, but also the best way forward.
I picture myself empowering my daughter by taking her by the hand and leading her to the higher ground, where she can tread sure-footed and confident, with an unobstructed view of where she is going.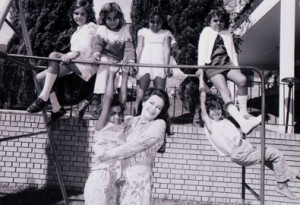 My sister is on the top left and I am on the top right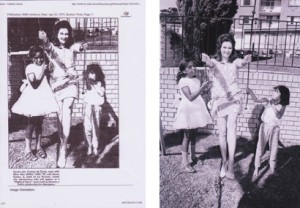 The actual newspaper article and similar photograph.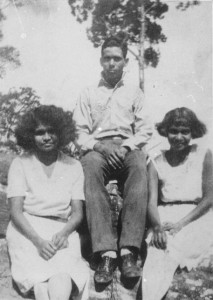 My grandmother (father's mother) is seated on the left.
My grandfather (mother's father) is in the centre.
Taken at Box Ridge Mission C1932.
References
A&E Television Networks (2011), Biography.com. Retrieved October 23rd 2011, from http://www.biography.com/people/yvonne-decarlo-9542333
Attwood, B. (2005). Telling the truth about aboriginal history. Crows Nest, Australia: Allen & Unwin.
Bagnall, G. (2011, October 19). Take control of your lives. The National Indigenous Times, p. 11.
Woolfolk, A. (2001). Educational psychology (8th Ed.). Boston, USA: Allyn and Bacon.,
---
[i] A & E Television Networks
[ii] Woolfolk
[iii] Bagnall.
[iv] Bagnall.
[v] Attwood, p. 196.