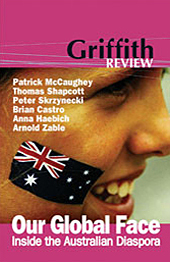 Our Global Face
Edition 6
They still call Australia home, but in the global village notions of belonging and place have changed – the stunning new writing in this issue bursts with new insights into what it means to be Australian today.
Writers explore how they move between countries and worlds, belonging, adjusting and moving on.
Writers include: Desmond O'Grady, Gillian Bouras, Patrick McCaughey, Brian Castro, Anna Haebich, Creed O'Hanlon, Peter Skyznecki, Susan Varga, Melissa Lucashenko, Ghassan Hage, Peter Doherty and many more.
Contact PopUp – Content
Office Address
Griffith Review
Building s02, South Bank, Campus – Griffith University
Grey Street, South Bank 4101 Australia
Mailing Address
Griffith Review
South Bank Campus, Griffith University
PO Box 3370, South Brisbane 4101, Australia
Media Enquiries
Cinnamon Watson Publicity
Email: [email protected]
Phone: +61 432 219 643