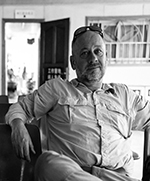 Tim Flannery is a professor at the Melbourne Sustainable Society Institute, University of Melbourne. He has published over 140 peer-reviewed scientific papers and has named twenty-five living and fifty fossil mammal species.
His thirty-two books include the award-winning The Future Eaters (Reed Books, 1994) and The Weather Makers (Text, 2005), which has been translated into over twenty languages.
He has made numerous documentaries and regularly reviews for The New York Review of Books.
Stay up to date with the latest, news, articles and special offers from Griffith Review.