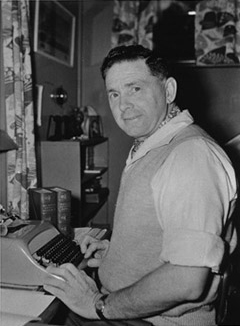 Ray Parkin, 1910–2005.
In 1939, Ray was a petty officer on board the Australian light cruiser HMAS Perth. Despite his lack of formal education and his naval practicality and discipline, Ray had the soul of an artist and a philosopher's enquiring mind. As HMAS Perth became embroiled in war in the Mediterranean and South-East Asia, Ray chronicled the events through his meticulous diaries and his minutely observed paintings and sketches. When Perth was sunk off the coast of Java, Ray survived but soon became a prisoner of war, first on the Thai-Burma Railway and then as a labourer in a Japanese coalmine.
The horrors and privations of those years saw some of his most memorable artwork, documenting both the beauty of the natural world and the savageries of the POW experience. He also developed lifelong friendships with fellow prisoners Edward "Weary" Dunlop and Laurens van der Post, and later published the seminal books Out of the Smoke, Into the Smother and The Sword and the Blossom. Ray died in 2005, acclaimed for his art, his wartime trilogy, and for his prize-winning masterpiece HM Bark Endeavour, an extraordinary evocation of Captain Cook's ship and its voyage up the east coast in 1771.
Stay up to date with the latest, news, articles and special offers from Griffith Review.