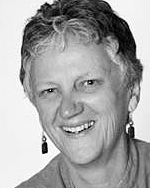 Margaret Merrilees' debut novel The First Week (Wakefield Press, 2013) was published after winning the Wakefield Press Unpublished Manuscript Award at Adelaide Writers' Week. It was later shortlisted for the Barbara Jefferis Award and for a NSW Premier's Literary Award.
In 2014, Wakefield Press published her Fables Queer & Familiar (illustrated by Chia Moan). The Fables are also broadcast on Radio Adelaide as a weekly serial.
In 2015 Margaret represented Flinders University at The Outstanding Field: Artistic Research Emerging From the Academy, a Melbourne symposium organised by the DDCA to showcase some of the best practice-led PhD projects from the last decade of creative arts programs in Australia and New Zealand.
---
Pieces by Margaret Merrilees
The bone garden
Edition 31: Ways of Seeing
Sighting Rottnest
Edition 34: The Annual Fiction Edition
The digestion of history
Edition 39: TASMANIA – The Tipping Point?