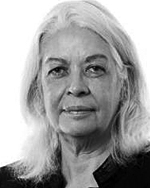 Professor Marcia Langton was appointed Foundation Professor of Australian Indigenous Studies at University of Melbourne in 2000. She has many years experience working as an anthropologist in Indigenous affairs with land councils, the Queensland government, commissions and universities.
She is one of Australia's leading thinkers on contemporary social issues such as child sexual abuse in Aboriginal communities and judicial leniency when sentencing Aboriginal murders and rapists.
She is known for her work in several academic fields, linked by a concern for indigenous rights, justice, and artistic expression. Langton conducts anthropological work to support land claims by Aboriginal peoples, and their negotiations with mining companies and the state.
Stay up to date with the latest, news, articles and special offers from Griffith Review.