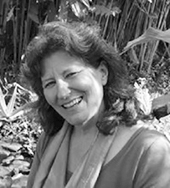 Laura Jan Shore was born in the UK, raised in the US and immigrated to the Byron shire,
Australia in 1996.
Author of the YA novel The Sacred Moon Tree (Bradbury Press, 1986), Laura's poetry has
appeared in literary magazines and anthologies on four continents. She also helped
establish the independent Dangerously Poetic Press.
She has won the 2006 CJ Dennis 'Open Poetry' Literary Award, 2009 FAW John Shaw
Nielson Award and the 2012 Martha Richardson Poetry Award.
Her latest book, Water over Stone (Interactive Press, 2011), won IP Picks Best Poetry 2011.
Her work has been published in anthologies and literary journals on four continents, including The Best Australian Poems 2013 (Black Inc.).
---
Pieces by Laura Jan Shore
Schadenfreude
Edition 61: Who We Are
When I look upon the suffering
Edition 48: Enduring Legacies
Ghost figs
Edition 45: The Way We Work