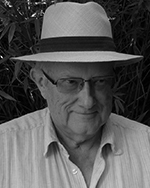 Jim Davidson is a historian and biographer. His best-known books are Lyrebird Rising (MUP, 1994) and A Three-Cornered Life: The Historian WK Hancock (UNSW Press, 2010). Together these books have won half-a-dozen prizes, including the Prime Minister's History Prize, the Victorian Premier's Prize for Nonfiction and the Age Nonfiction Book of the Year.
He is now writing a double biography of Clem Christesen of Meanjin and Stephen Murray-Smith of Overland. 
---
Pieces by Jim Davidson
The lost option
Edition 36: What Is Australia For?