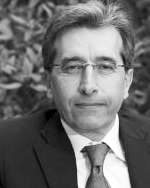 Professor Haig Patapan is Director of the Centre for Governance and Public Policy and Professor in the School of Government and International Relations.
His research interests are in democratic theory and practice, political philosophy, political leadership and comparative constitutionalism.
He has published in the foremost political theory journals, public policy journals and law journals.
He was co-winner of the American Society for Public Administration Mosher Award in 2007.
His books include Judging Democracy (Cambridge UP, 2000), Machiavelli in Love (Lexington Books, 2007) and a series of co-edited books exploring the changing nature of legitimacy, law and leadership, especially in Asia: Globalisation and Equality (Routledge, 2004); Westminster Legacies (NewSouth Publishing, 2005); Dissident Democrats (Palgrave Macmillan, 2008); Dispersed Democratic Leadership (2009); Political Legitimacy in Asia (Oxford UP, 2011).
His most recent co-authored book, The Democratic Leader (Oxford UP, 2012) investigates the unique strengths and limitations of leadership in democracies.
Stay up to date with the latest, news, articles and special offers from Griffith Review.