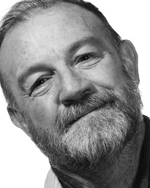 Bille Brown (1952-2013) was an Australian Shakespearean actor and acclaimed writer of plays.
Brown was born in Biloela, Queensland and studied drama at the University of Queensland.
He was a member of the Queensland Theatre Company, with one of his fellow actors in the QTC being Geoffrey Rush.
He also appeared with the Royal Shakespeare Company in Stratford and London, in England.
Bille Brown has also appeared in movies, including: Fierce Creatures, The Dish (in which he appeared as the Prime Minister), and Oscar and Lucinda (in which he appeared as Percy Smith).
Bille Brown has been a visiting Professor at the State University of New York College at New Paltz, and has also appeared on stage at Broadway in New York.
In 1996 he directed the Australian stage production of Over the Top with Jim which exceeded box office expectations.
Stay up to date with the latest, news, articles and special offers from Griffith Review.