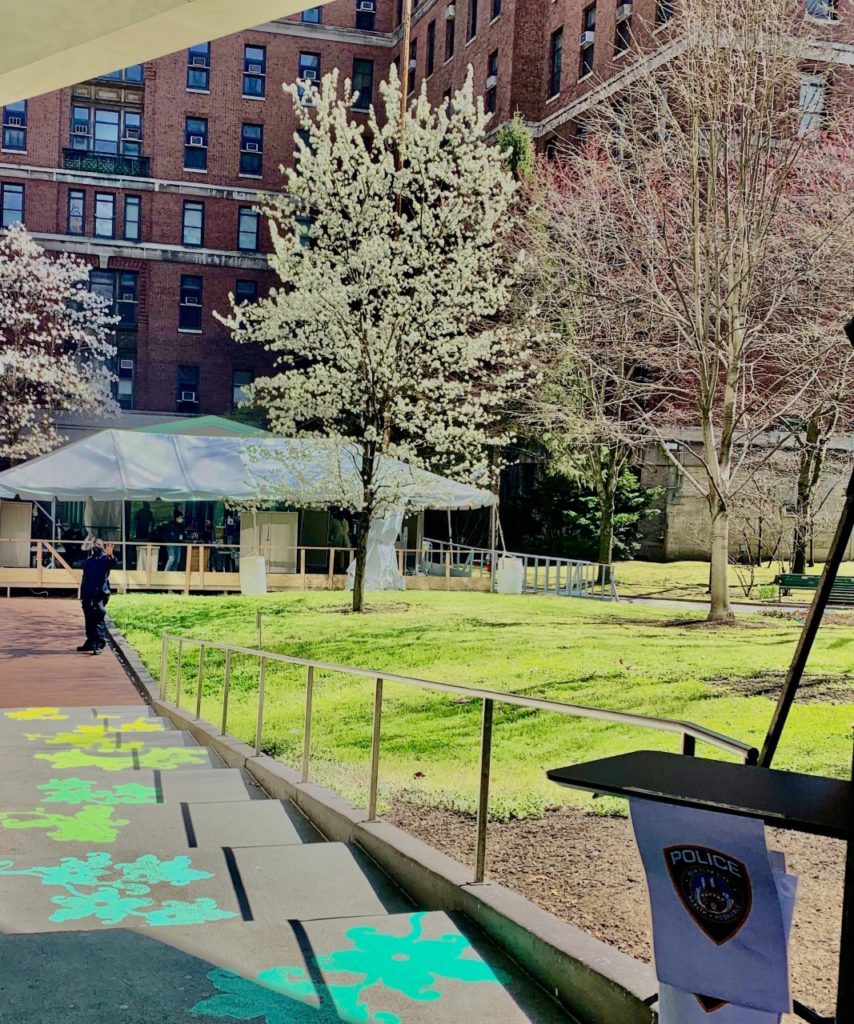 WEEK TWO OF the new normal. It's just turned spring. Somehow the crinkly, soft-wrinkled new daffodils have managed to push their way up through the crisp, cold top-coat of the soil. How does it happen? All that softness managing to burst into the sharp, thin, spiky winter ground? All that impossible yellow calling out of sun-ness loud and true? And all that time they'd secreted their buttery song under the sleeping winter dirt.
The trees in the small garden in front of this New York City hospital have exploded into blossom. In the last months of winter their bare branches pretended to be architecture – all lines and bends. But in the space of two short weeks they'd dropped their ruse of seriousness, bursting into clusters of tiny blooms in an immodest explosion of exuberance.
Late last week a big white tent went up in that front garden under the glorious trees. All the plastic bags and pieces of winter trash that had blown through the wrought iron bars of the perimeter had been cleaned up. The banks of moss ran into the green of the lawn – the grounds looked immaculate. 'What a great place for a wedding,' I thought.
It is glorious, spring, but my optimism began to embarrass me. As I walked past the tent, the garden, I stopped to take a photo, and the man I took to be a maître'd waved me on impatiently.
He was a cop. The tent is the front-of-house COVID-19 screening site. The entry to the atrium is now lined by a phalanx of police and security officers. Needless to say, they're all armed. Get past them, and a medical post takes your temperature to see if you have a fever. If you get past that, you have the security desk, where the tireless, hard-working team now has a Perspex screen around their booth. Security note down your identity, check your pass and give you a piece of paper. Every day you need a new piece of paper that you stick to some part of your person. You're required to show it every day, several times a day.
CONFIRMED CASES OF COVID-19 in New York state have escalated – there are currently eight to ten times more COVID-19 cases here than any other state in the US, which equals roughly 5 per cent of cases in the world. The US federal government has declared the state the epicentre of the US epidemic for good reason.
And things are especially bad in New York City; President Trump described it tonight as 'the number one hotspot'. As of 23 March, there are 11,000 confirmed cases in New York City and rising; 2,072 of those cases are living in Manhattan. That's a lot of people for an island that's only 3.7 kilometres wide by 21.6 kilometres long.
Keep that map in your mind's eye and drill on down. This hospital has a long history of taking on challenges. It's coped with AIDS. Coped with SARS. Coped with Ebola. But right now, all hospitals in New York are pushed to their limits. The swell in numbers of confirmed cases is the problem. This virus is 'out of control'. The surge of those needing hospitalisation has stretched the system to well beyond capacity.
Shift your view one notch closer to Level 6. It's a place I know all too well now. On 12 January 2020, I received the news that my twenty-three-year-old daughter, Visaya, had been run over by two trains in a tragic subway accident. I flew out from Brisbane the following day and have been with her since during her slow process of recovery in this hospital.
Late last week any patients in the Rehabilitation Unit on Level 6 were moved into the Brain Injury Unit nearby. Since 11 January, Visaya's been moved from Emergency to ICU to floor fifteen and now down to floor six – all as her healing moves forward. It was always going to be a long journey. But we didn't expect these particular complications; the COVID-19 complications.
After she was moved this last time, we peeped through the doors that separate Brain Injury from the more familiar ward she'd left. Doors to the patients' rooms were mostly closed. Hazard signs had been stuck up. The corridors were lined with police and security guards. The staff – who only last week shared our gifts of cookies and cakes – were wearing masks. Even so, traces of exhaustion flitted inside their movements.
Confirmed cases in Manhattan are still climbing. They're climbing so quickly that the Governor of New York State, Andrew Cuomo, has ordained New York City Mayor Bill de Blasio to come up with a more radical plan to contain the spread of infection more effectively.
So right now, 'The Pause' is in operation in New York City. 'The Pause' is all about social distancing. If you go out, you go out for a short time and get back inside again. All non-essential services have been closed down. All gyms have been closed down. New York is a vertical city; most people live in small apartments. During 'The Pause', New Yorkers still get outside and do some exercise – but like everything else, you do what you need, then get back indoors. You need something from the pharmacy? Same. You need groceries? Same. Do what you have to do and get right back inside again.
Mayor de Blasio tells New Yorkers: 'We will enforce this new reality. Team sports are gone; barbeques are gone – probably for months.'
A decision to discharge as many inmates from public institutions as is practicable has been enforced. Prisoners are being expelled. Patients too.
MISS DOE HAD been a patient of the hospital's Rehabilitation Unit for over two years. Tiny, imperious, with a radio plugged into her ears as she wheeled around the corridors, Miss Doe had been 'adopted' by the ward as a means of keeping her from moving back onto the streets from which she'd come. Every Sunday someone took the time to get her out of the usual pale-blue chequered hospital gown and into street clothes. They would carefully redo her hair. Miss Doe looked particularly good these days, and she'd look back at you with even further heightened disdain. Now Miss Doe has gone. She wasn't moved into the Brain Injury Unit with the rest. I haven't found out what's happened to her.
As for the prisoners, up till now, news was that those on Rikers Island had been corralled into making hand sanitiser. 'Very practical,' I thought, but the idea of Harvey Weinstein making hand sanitiser was a bridge too far. Then came the news that Weinstein had been moved upstate to detention in Buffalo, where tests confirmed he was positive for COVID-19.
Prisoners are being released from Rikers daily. On 22 March, twenty-three were released – all low-risk offenders over the age of fifty. Currently two hundred more inmates are being considered for release; they're primarily individuals who have limited time on their sentences. According to the governor, tranche after tranche of potential 'releasees' is being considered as the potential escalation of infection among inmates and officers enclosed in the lock-ups is taken into account.
The same day, the government sent four agencies in to reinforce the lockdown in all places that were not 'essential businesses'. Three thousand inspections found only eleven instances of violation. In the past two days the New York Police Department reports making only two arrests out of 5,500 incidents. Late last night I think I might have heard the 5,500-and-first – a homeless man below my bedroom window was doing everything he could to explain to two police that he was better off living where he was than being escorted to a shelter. He had a good argument to make.
Directives change several times during the day. They come from federal, state and city levels. I try to get other things done while I listen. I thought the TV announcer had included 'comedian stores' in the list of 'essential businesses'. 'Fair enough,' I thought distractedly. But it was 'convenience stores'. I was happy about that too.
But both city and the state have been unable to deal with the demand for hospitals and equipment. Both Mayor de Blasio and Governor Cuomo have been working with the President's office to find ways forward: the scale of this crisis necessitates shared objectives.
They've made for interesting daily online viewing, these negotiations. Some politicians keep their heads with remarkable cool. Others, looking more and more frayed, occasionally let it rip. 'You are not using the tools of your office,' Mayor de Blasio observed of President Trump. 'You are watching and waiting and missing every chance to be bold and protect our nation.' He warned of devastation in the next couple of months if the President kept stalling – pushed to the edge by his realisation that the New York City hospital system was just two to three weeks shy of running out of hospital supplies. He knew the numbers needed: essentials included three million masks, fifteen thousand ventilators, and twenty-five million gowns, coveralls and facemasks. The mayor's call-out was local too, requesting all healthcare workers who might have already retired to come back and help. Within a short time, 1,746 former health workers had responded, willing to commit their expertise to the crisis.
THE FEDERAL GOVERNMENT has sent the National Guard into New York, although we're assured this doesn't mean martial law is being brought down. And the federal government will absorb the entire bill for this. US states are usually expected to shoulder a quarter of such costs, but President Trump has agreed to take on the expense as a mark of support for New York. HMS Comfort – a floating army hospital – is on its way to New York Harbor, where its trained staff will take cases other than those confirmed as COVID-19 to relieve some of the squeeze on the hospitals.
The federal Army Corps of Engineers has been enlisted to proceed to erect temporary hospitals – two on Long Island, one in Westchester County (where there's a particularly condensed cluster of confirmed COVID-19 cases) and one in the reconfigured Javits Convention Center in Hell's Kitchen. These temporary hospitals don't come with supplies or staff: they are just indoor assembly places, some of which have dormitories where staff can stay.
But it's the hospital supplies that pose the main problem: the masks, surgical gowns, face shields, coveralls, gloves and ventilators that make the difference between life and death. The governor and the mayor have appealed publicly for President Trump to bring down the Defence Production Act, a federal edict under which manufacturers can be ordered to make specific materials necessary for a war effort.
In a rush of price-gouging – or panic-buying – between desperate US state governments cramming to buy essential hospital materials and equipment, Governor Cuomo pleaded with President Trump, arguing that it should fall to the federal government to decide which materials were crucial, which factories could produce them, how many need to be produced and how they should be distributed.
FRIENDS KEEP ME abreast of what's going on around the world. Coverage from The Betoota Advocate told me 'Rich people don't get coronavirus, confirm 20,000 brainless cunts on Bondi yesterday'. Didn't look like people were taking things too seriously back home – satire or not. Here, you can be arrested for hanging around in small groups. Here, schools closed down two weeks ago, although school kids are still being safely fed.
Meanwhile, from Manila, amid a population that runs to almost 14 million, friends describe lockdowns where food and water are already running out. Manila has the highest homeless population of any city in the world – estimated at 3.1 million. In 2018, the Philippines was thought to have more than 1.2 million homeless children – over half of whom lived in Manila.
Yup, we're all doing it tough right now. But there are other people, in other places – many of them – who are doing it a lot tougher.
It's a rude contradiction to the prevailing mood, spring bursting through once again in this hemisphere. And although it's a conceit of literature to take assurance that seasons pass and will return, the spring of 2020 stands separately inside these promised cycles, sure to be remembered as a time when we were brought face to face with evidence of how the repercussions of our dysfunctional relationship with this planet will infect the very core of our beings.
23 March 2020
More from author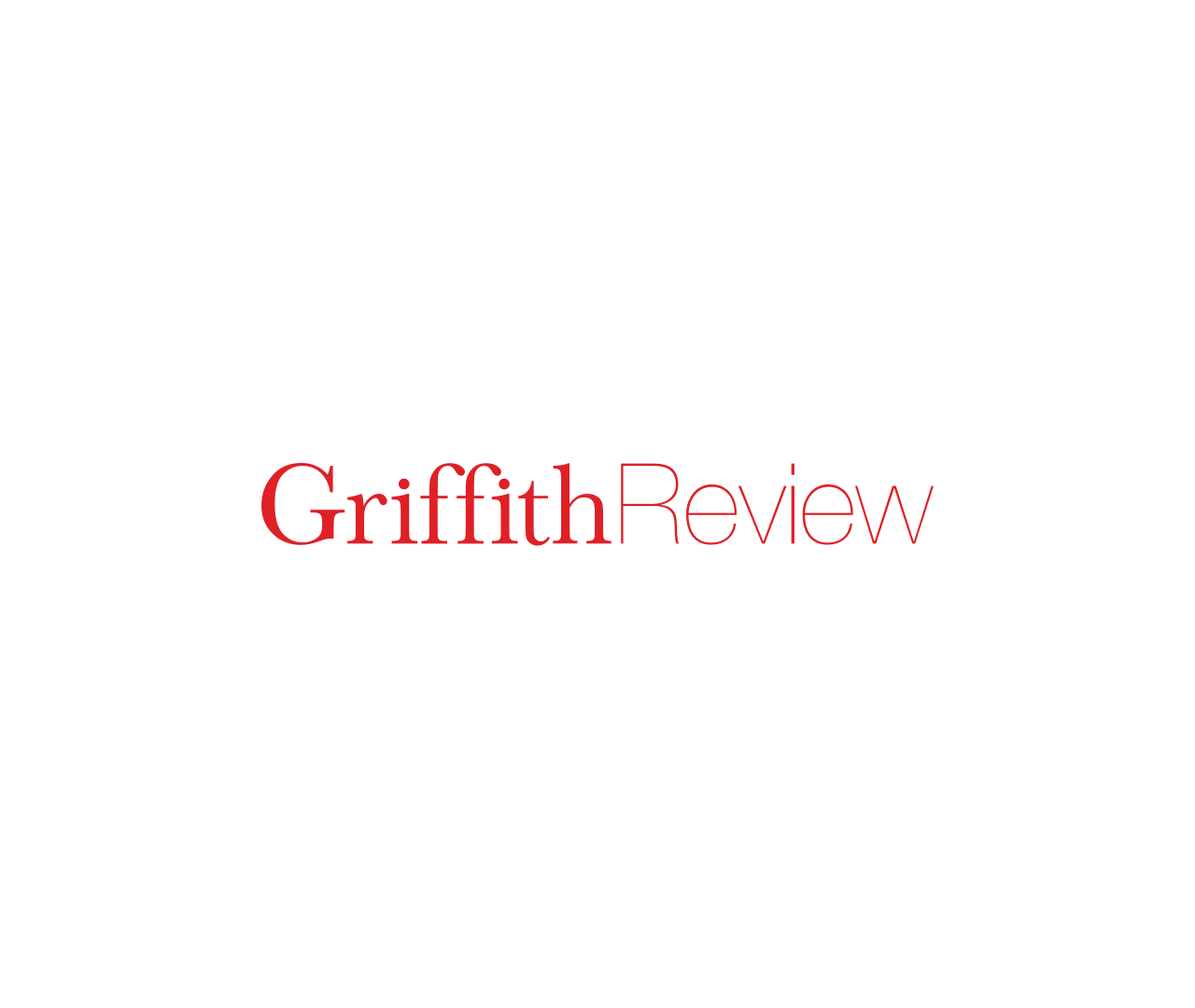 EssayAlthough Europeans had believed in the symmetry of the two hemispheres for nearly two centuries, they silently forgot the idea. They tolerantly accepted that...
Stay up to date with the latest, news, articles and special offers from Griffith Review.